Interview by Heather McCarty
Carmen De La Paz—Designer, Carpenter, DIY expert and TV personality, inspires people worldwide through television projects and her recently established YouTube channel, featuring videos in both English and Spanish. A "hands on designer" and accomplished craftsperson, Carmen does all of her own work, handling power tools, to create with wood, metal and glass. She is also owner of De La Paz Designs, an interior/exterior design studio specializing in creating designs focusing on decorative finishes and custom made furniture for interior/exterior residential and commercial spaces.
So I'm going to start with the difficult question: sum up your creative process in one word/phrase, and explain why!
My creative process in one word is: Catharsis
As Aristotle put it, (Loosely) "The cleansing effect created by an emotional release thru tragic drama." My interpretation: My pursuit of "creating/making" feels like an emotional release that creates a cleansing effect. As most creators/artists/makers know, there is usually some form of tragic drama in the process. The creative work I have enjoyed the most has almost always had some form of tragic drama. Paint bubbled, wood bowed, epoxy didn't cure—why fight it? Accepting it is part of the process of making—something will probably always go wrong, something within the project may not work exactly as we planned. Having experienced many of these "creative/artistic tragic dramas" has taught me, "go with the process." Inexperience and hard knocks have made me realize, one must allow the work to evolve as opposed to being forced. Yes, this sometimes kills timelines and we all have those business lesson to learn however, to love what I do, I have accepted that the creative process isn't always easy. Realize creative difficulties makes you grow by forcing you to "do" or perhaps "see" something differently—something you may have never seen or done if it weren't for them in the first place. Catharsis: The making has a cleansing effect. The finished piece is an emotional release. Yes, there probably was tragic drama in the making.
Were you always an artist, even as a child? What was your path to becoming a professional artist?
Looking back to my childhood, I WAS always an artist. My earliest memory of "what I want to be when I grow up" was an artist. I was afraid I wasn't talented enough, I was taught art doesn't make money. SO, I studied Music Theatre – HA! My path to art has been very windy—Professional Theatre Actor with B'way credits, TV shows, then…couldn't get cast when I no longer look like a teen. Got hired by Warner Bros. Studios and held several positions over 10 years – became Director of TV Publicity and moved to LA, thinking I was going to stick to the corporate side of studio work—again…HA!  Here is where it goes crazy. In a nutshell—had a repetitive dream where I was painting with an oversized brush. The paint was always red or yellow. As I dreamed my brush stokes were over-exaggerated. After a few similar dreams decided to take up paint and to my surprise was pretty good at it. Started working with tools via a basic DIY desire to fix my home and realized I could save a ton of money. Thru the process of making my home pretty, I figured out I was hardwired to create with paint and tools. The rest is history. Decided I wanted to be creative with my hands. Left the WB to start my business in Design with a focus on Furniture making and Decorative Finishes. Lucked out with some big celebrity clients and I was referred to HGTV by a dear friend and TV Host. 52 TV Shows, 8 Networks, Spanish Language shows in 18 countries and now I finally call myself an artist.
You are very experienced in making everything from small vases to larger sculptures, furniture, and even fireplaces. What is personally most gratifying for you to design and execute, and why?
I actually enjoy designing a whole space – I love to paint the walls, make the furniture, the water feature, create the art—all of it! Creating a whole environment or space is like theatre to me. However, these projects require a large crew, time, and usually a good budget if it is to be enjoyed. Interestingly, I have found combining woodturning with caring, metal, decorative finishes and textures has given me the same sort of satisfaction. To make something on a lathe I don't require a crew; I can usually make pieces with carving and decorative paint elements in a day or two and still feel like I did a whole room!
You often work on very heavy and large pieces. Are there any tricks you've adopted to compensate for your small stature?
I first approach a project by what I see as the design – if it requires stone, I will cut it, it if requires large wood structure, I will make it. It is more about pursuing what I want to make than saying "I want to make big for the sake of making something big." I want to "make" what is called for and appropriate in a space or for a client. With that said, I very much enjoy making larger scale pieces or creative elements in a home. Working with metal, stone wood and glass takes away so many creative limits.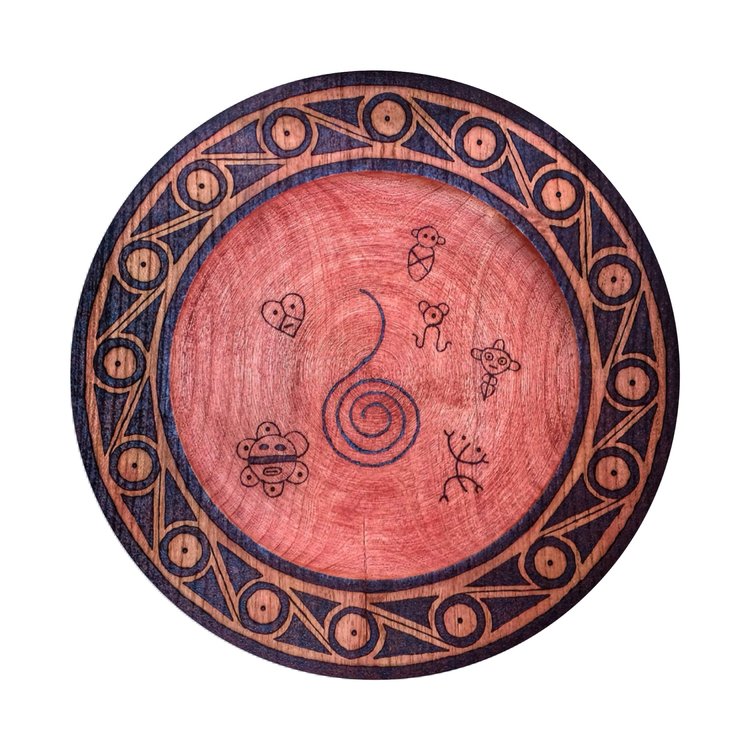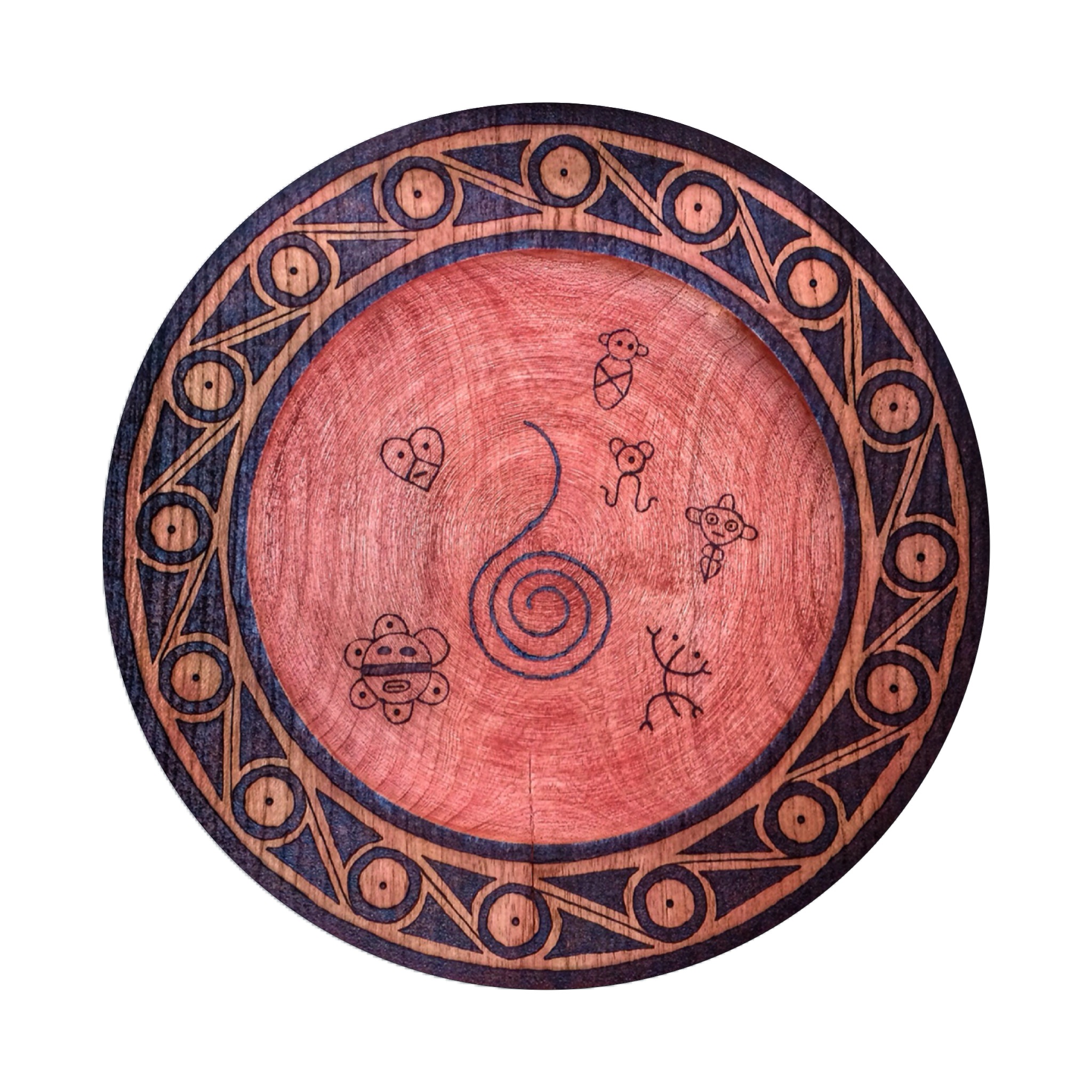 A lot of artists find it difficult to work with wood, metal, and glass, and usually seem more comfortable sticking to one material. (After all, there is a bigger difference between wood & metal than there is between acrylic paint and oil paint.) But you skillfully do metalwork, wood carving, woodturning, and even glasswork, often in the same piece. Did you always use these materials, or did it take a while to feel comfortable with them all?
My development with different materials is layered learning forced by what I may be designing at the time. When I started, as I want to make the next thing, it meant I usually had to learn a new skill to do it. I never gave up at, "I don't know how to do that." My thought has always been: "Design it, what I don't know, I will figure out." I can say that about every single thing. Paint, Wood, Stone, Cement, Metal, Glass. No one is born knowing any of them. I have never believed in limiting myself. My catch phrase for years has been, "I am limited only by my creativity."
I know you recently relocated from sunny L.A. to Austin, after spending years working in the television industry. What brought you here to Texas?
Honestly, Love brought me to Austin. I have been considering leaving LA for a few years now. Working in the TV Industry for so long made leaving LA a scary thought. As life would have it love, combined with a wonderful city and what I see as many opportunities made it easy for me to pack 9K pounds of tools and head to Texas. Life has proven to me, it is what one makes of it and love does not come around often. Contemplating the whole TV biz world made it easy and time to make a heart decision.
You showed your carpentry and makeover skills and on HGTV's Hammer Heads and the Oprah Winfrey Network's "Home Made Simple." How did these jobs inform your work as an artist?
I feel very fortunate to have had so many wonderful TV opportunities. Working as a host and truly making what is seen has made a huge impact on two aspects of my life as an artist/creator. 1. Go with your first choice and gut instinct in your creative process. More often than not, you will waste time deciding between things and end right back at your first choice. Trust your gut with your first creative choice – color, a profile on a chair, even a pillow. 2. Calculations of work time and Speed in execution – I have had to learn to build well and fast and not waste production dollars in overbought or misused materials. Miscalculations in materials almost always mean more time and more money. As an artist, I know the reality of how much time it will really take to make or do and how much it will really cost. Two factors most artists don't really consider and if they do, they don't know how to calculate.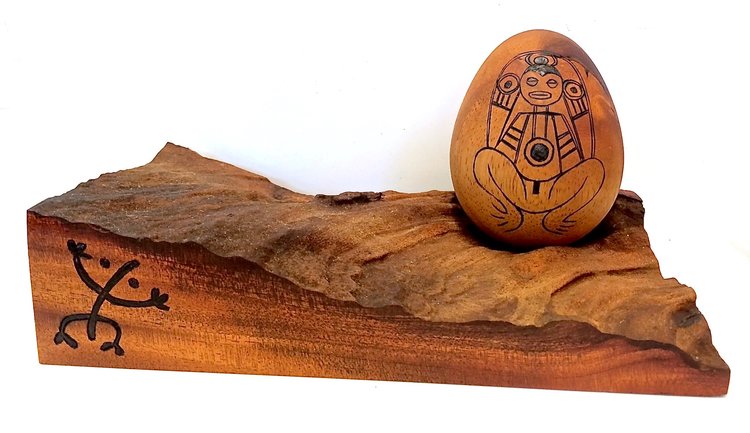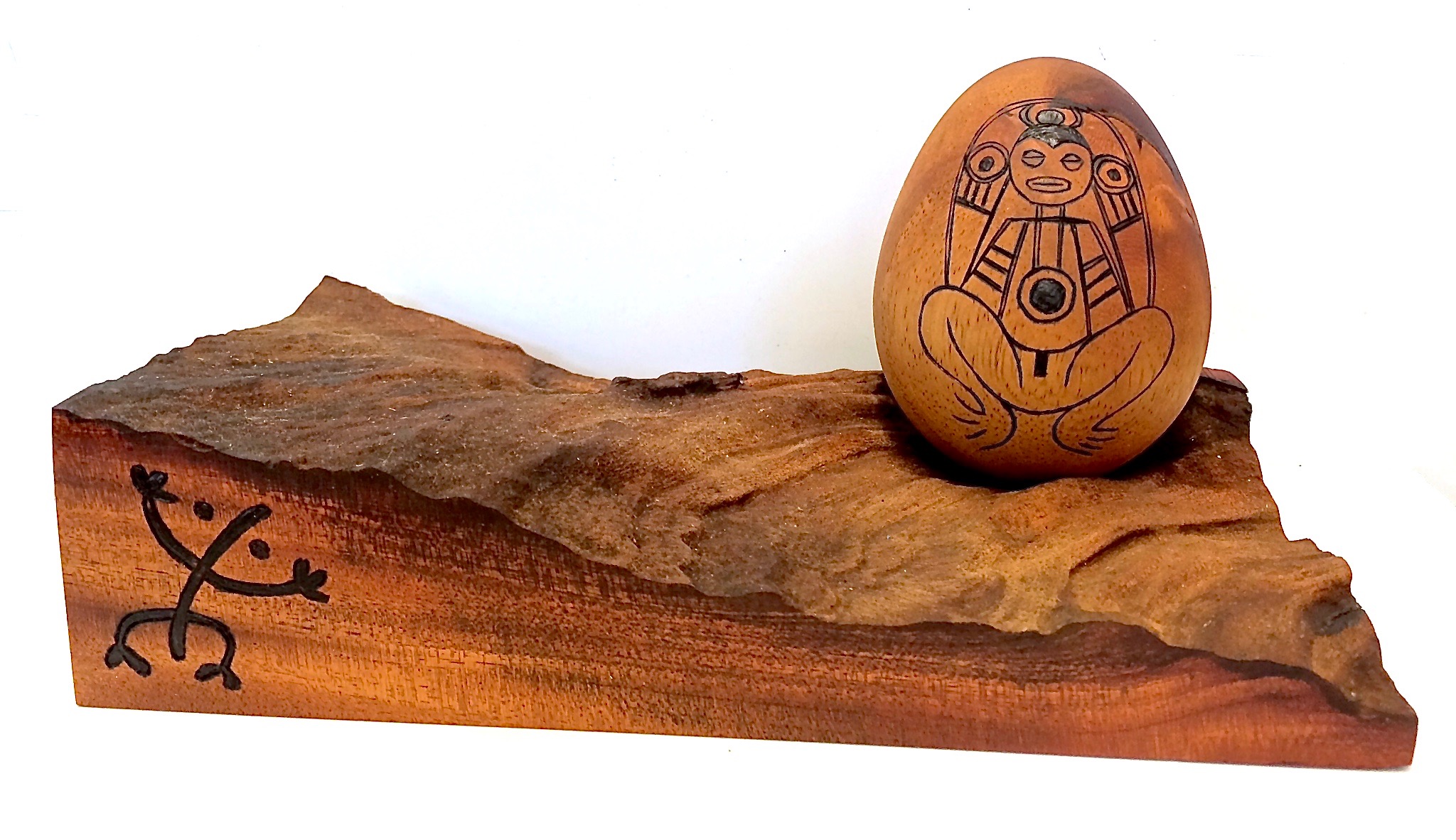 When we spoke previously, you mentioned that business experience is invaluable to artists, because a big part of being an artist is not just creating but being able to share your passion in a marketable way (the elevator pitch), so that others understand what you are trying to achieve. Artists often lack the business know-how. What helped you to become a professional artist full-time? What would be your advice to an artist who doesn't know where to start with the business side of art?
I see it over and over, artists learn their skills, but never learn how to sell what they create. How does one turn their work into a paycheck? I like to break it down with these questions:
1. Who will want my work or who am I selling to?
2. How much will they pay? VS How much does it sell for in the market? VS How much does it cost you to make it? – You must account for your time!
3. How do I get those who will buy to know about my work and how to purchase it?
You recently opened an artisan school in Austin to teach others trick of the trade. Can you tell us more about the school, and what can students can expect to gain from doing workshops with you?
I am very excited to share about De La Paz Designs & Artisan School. One of the best parts of my television experience is teaching people to work with tools for the first time and helping them believe they can create with their hands. Also, having taught woodturning and paint techniques in Puerto Rico, South Africa and Australia has made me realize I LOVE to teach! In my opinion, one of the best things in life is helping someone accomplish something they never thought possible.
My goal with the Artisan School is to offer a variety of Artisan Craft, DIY and Power Tool workshops with a heavy emphasis on Woodworking, decorative finishes and metal applications.
The Mission of De La Paz Designs & Artisan School:
* To empower people with knowledge, techniques and skills, to create with materials, tools and safety awareness via workshops and classes.
* Offer a creative path to help people learn artisan skills they may not have access to thru traditional educational programs.
* Through "hands-on" teaching, serve as a learning resource for knowledge and skills in artisan crafts.
* Be a facilitator for local and visiting artist/teachers to share their knowledge and skills in the Austin, Texas area.
Austin has a prolific art scene and a lot of workshops and schools. What sets your school apart from the rest?
I don't believe in comparing myself or, my work, to someone else, I truly believe we all are and CAN be different. This is no different when it comes to learning in Austin. I want to share what I am passionate about and hope people find the same happiness and satisfaction I have in making, creating and saving money.
What would be your advice for someone (an artist-at-heart) who wants to create, but feels like they haven't found their groove or their medium?
My advice to anyone who considers themselves an "artist-at-heart" is listen to your head and heart. Most don't "get" what it means to live for expressing your creativity, so most people will want to talk you out of it. The ONLY person who can tell you "NO" is YOU! With all that said, you must also be willing to work harder and longer than anyone else – realizing the career you have chosen does not have a clear path and most simply give up because the fight got too hard. Believe me, I have been there, and by merely saying I am artist means I may be there again. I will not ever say it is easy, but if it is truly your vocation, you will also be about to figure it out.
Born in San Juan, Puerto Rico and raised in Wisconsin, Carmen is an alumna of Syracuse University and has a BFA in Music Theatre. She also studied Broadcast Journalism though the UCLA Certificate program. Carmen is a musician, plays nine instruments and has an amazing vocal style.
Carmen brings the female perspective on home improvement, power tools, design and "do-it-yourself" to the television screen and the internet in both Spanish and English through a variety of projects. Currently appearing as Co-Host and Carpenter in the sixth season of the Emmy Award Nominated make-over show, "Home Made Simple" on the Oprah Winfrey Network. Most recognized for her work on HGTV – Carmen's carpentry and design skills were featured on six seasons of HGTV's highly-rated makeover series Hammer Heads which garnered an Imagen Award Nomination in 2011 and 2010 for Best Reality Show. In addition to many other shows on HGTV, Carmen appeared as one of HGTV's celebrity carpenters on a season of highly-rated HGTV's Design Star and was a judge on Mike Holme's All American Handy Man Competition. 
Carmen served as brand ambassador and spokesperson respectively for 3M and the ScotchBlue brand for four years. During her time, she produced content and hosted several how-to videos for ScotchBlue, represented 3M at several industry conferences including Hispanicize 2015, and represented ScotchBlue in a variety of media efforts including Satellite Radio and TV Media Tours, magazine and print Contributions, as well as public events all over the country. 
FOR MORE OF CARMEN'S WORK, PLEASE VISIT HER WEBSITE AT HTTP://CARMENDELAPAZ.COM