Interview by Sam Desmond
Working in a classical medium, encaustic, artist Linda Frueh has gained a strong contemporary following by speaking true to the colors and emotions of everyday life in a dignified, but accessible interpretation.
An accounting firm commissioned dozens of your work to decorate their office, what's it like discussing artwork with accountants?
The office was extremely thoughtful and contemplative about the placement of the artwork throughout the building.  There was a questionnaire were members of the firm had to rank the pieces in order of their preferences to decide placement.  One accountant loved this diptych, Borderlands, because it wasn't particularly happy or sad, but he found the blue, burlap very masculine.
How did you come to get the commission?
We were clients.  I was at a meeting with them at their new office in San Diego and asked, "Do you need artwork?"
Do you find that commissioned work is more challenging than presenting at a gallery?
I'm more of a personal, commissioned type artist than a gallery artist.  Although that may come in time.  I think finding the right venue for exposing your work is one of the biggest challenges facing young artists.
How do you define a "successful" artist?
For me, I want to be self-supporting through my artwork, with fame not necessarily being the primary goal.
So what is "encaustic"?  Why is this the medium that speaks to you the most?
It's an ancient, classical medium consisting of beeswax melted together with damar resin to create a harder, more lasting material with which to paint and sculpt.  It was first used in Ancient Egypt to seal the hulls of boats, then to create paintings and sculptures that have lasted until today.  I love the tactile qualities of encaustic.  So often I am asked by patrons about my artwork, "Can I touch it?"
Talk me through your process of making an encaustic piece.
Encaustic is sculptural in that you carve into it, or as I prefer, build texture through dripping, pouring, and dry-brushing (a technique called accretion).  I heat the encaustic on an electric griddle—pancakes or encaustic today?—and the colors are separated into muffin tins and loaf pans.  I have dozens of tins of color with brushes hardened into them.
Color is main genre for you, where does your inspiration come from to decide your color palettes?
The beauty of encaustic is that it transmits light, so it's important to think about the visual density of a color.  I'll choose a complementary color or a neutral to play alongside the main color choice.  There are colors that call me to repeatedly, pale celadon green, a mix of apricot and pink that defies description, shades of white and grey.  I often find, having mixed a color,that I already had almost the same shade from a previous piece.
Do you use any other unexpected tools?
Dental tools, linoleum carving tools, razor blades, and hardware store scrapers are the workhouses of my studio.  The all-important heating tools are heat guns ad torches.  Because I'm a fire-hound, I use torches almost exclusively.  They're faster and create fewer bubbles than heat guns.  The butane Iwatani torch is great for fusing layers of encaustic.
Have you ever done pieces that were less abstract and more representational?
Yes, I did a surfing piece after being blown away by all the surfing photos I saw on Instagram.  Just a simple barrel wave with a surfer emerging, but it was so damned hard.  The position of the surfer on the board was incredibly important, it needed to be realistically crouched, energetic and at only 1.5 inches tall on a large piece it was a lot to capture on such a small part of the canvas.  I had to pull up my anatomy, but strip it down to a few angled lines and dabs of color.
And the water.  The goddamned water.  Translucent, but dark, surging but controlled, motion yet very subtle color gradations.
Have you always worked with encaustic, or other sculptural media?
At 36 I decided to abandon my corporate career and pursue my dream of going to art school—
Wow, that sounds like a whole movie in a sentence—
Yes, I was single, I had the money, I didn't know where my life was headed, but I was so burned out on the corporate life.  I took classes at the California College of Arts & Crafts and learned I'm a sculptor rather than a painter and also how much I like fire.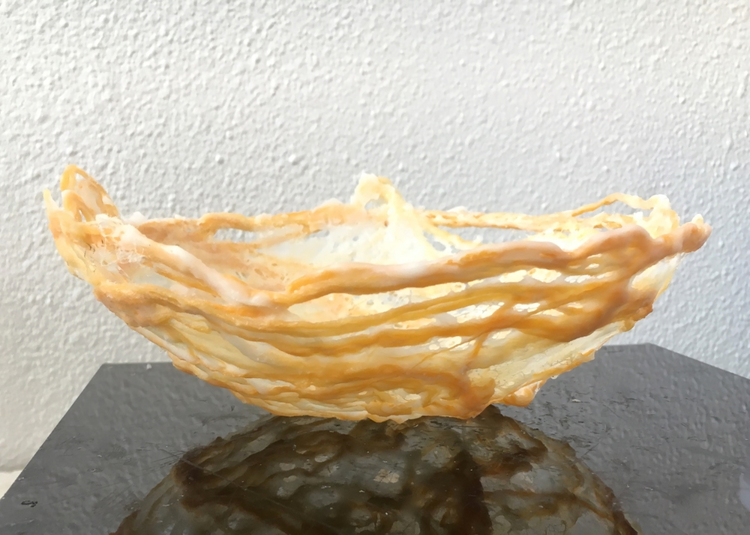 Corporate career, sculpting with fire, there's a lot of masculinity swirling in your background…
I live with three men, my husband and two sons.  I love men and have, for much of my life worked and studied in male dominated environments.  Nevertheless, my emotional outbursts often earn me slightly frightened looks.  "Don't any of you speak feelings?!" is a frequent exclamation of mine.
But certainly a source of inspiration.  The surfer piece you spoke of, was partially completed for your son?
Yes, my 16-year-old son is a fledgling surfer.  I wanted it to "work" in his eyes.
What advice do you have for other artists to get their work into the hands and homes of collectors?
Build up your confidence and present pieces that have coherence as a group.  Encourage your audience to connect with what they see.  Common questions I get asked are, "what IS that?" "How do you do that?" "Can I touch that?" Which I love, and I always encourage them to do it.  I always touch the pieces hanging in my home.  It's all part of the experience.